Training our Turntable Operators!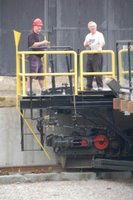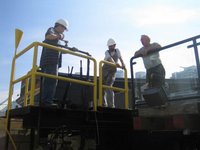 Click on each picture for a closer look!
.
Over the past few weekends, we have been training a number of our volunteers to operate the turntable as is shown in these two photos.
.
As the TRHC moves closer to opening there will be training opportunities in additional areas including that of locomotive operation for both diesel engineers and steam locomotive engineers and firemen. To become a volunteer and receive notification of work dates please click on the link to our discussion group on the left of the page.
.
By Russ Milland, TRHA