Online Donations to the TRHA Now Possible!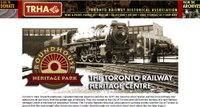 Click on the picture for a closer look!
.
The Toronto Railway Historical Association (TRHA) is primarily focused on the development of the Toronto Railway Heritage Centre in downtown Toronto as a means of capturing the rich railway history of Toronto and its surrounding communities.
.
To make this happen, the TRHA is committed to raising funds in addition to current sources of funding in order to develop a truly world class museum operation with both a physical presence in downtown Toronto and a powerful virtual presence around the world through the Internet.
.
We have now added a "Click to Donate" button at the upper left hand corner of every page on our website as shown above in the image of our website's home page. Clicking on this button will lead you to a donations page which will advise you on how to donate either through PAYPAL online or by sending us a cheque through the mail. We are a federally registered charitable organization and therefore will provide tax receipts for all donations of $25.00 or more.
.
By Russ Milland, TRHA