Christmas Train Show a Great Success!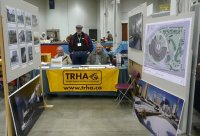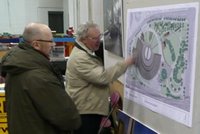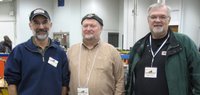 Click on each picture for a closer look!

The general impression after the two-day show was that people are delighted that the museum is moving ahead and they are impressed with the level of progress accomplished thus far. Since most people have not seen the extensive renovations and remedial work inside of the Roundhouse since Doors Open in May, the restoration and installation of the turntable was probably the single and most highly visible accomplishment that has demonstrated that the museum is well on track.
.
The highlight of the TRHA exhibit was the updated and current Park Plan. People have been looking at conceptual drawings for years and it was thrilling to be able to share a plan that was backed up by a high degree of political certitude.
.
Another highlight of the show was the display of photographs by Norm Betts. Norm is a highly skilled professional photographer hired to document the changes to the Roundhouse during the construction phase. Huge prints of Norm's photographs were on display and they attracted people from all over the exhibition hall. Several visitors mentioned that they would love to be able to purchase poster size prints of Norm's work.
.
Orin Krivel, Michael Guy, Derek Boles and Dave Wetherald were responsible for organizing and manning the TRHA display at the 2008 Toronto Christmas Train Show and it was considered an outstanding success by all concerned. In addition to providing a high profile for the Toronto Railway Heritage Centre, the show is also the premier social event in Toronto for rail enthusiasts and the TRHA always welcomes to opportunity to greet old friends and make new ones.
.
In the picture at the left, Dave, Derek and Orin man the TRHA booth during a quiet moment at the Train Show. In the middle picture, Dave explains the new park plan to a visitor at the Christmas Train Show. In the picture at the right, Michael, Orin and Derek pose for the camera.
.
Text and pictures by Derek Boles, TRHA