Acquiring Miniature Rail for Roundhouse Park - Part 1 of 2!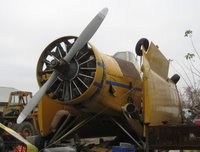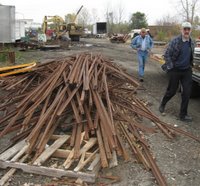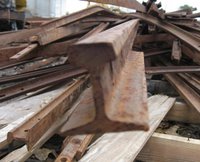 Click on each picture for a closer look!

.
Early in the fall of 2008, the TRHA was made aware of a supply of small size rail suitable for use in the building of our miniature railway in Roundhouse Park. So we made the trek to Brantford to visit the recycling company who were offering this rail for sale. The recycler had a fascinating collection of old engines and other recyclables which captured our interest as well including a crop dusting airplane as shown in the picture at the above left.
.
However, we finally focused on the task in hand and examined the rail. As shown in the other two pictures the rail was in good shape and consisted of a roughly equal quantity of 1 1/2" high (8 pounds per yard) rail and 2" high (10 pounds per yard) rail. The rail was formerly used by the Conklin amusement ride company. Subsequent to the visit, we agreed to purchase the rail at an attractive price.
.
Text and Photos by Russ Milland