A Busy Weekend at the Roundhouse!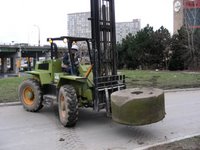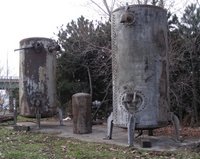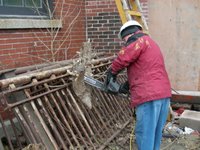 Click on each picture for a closer look

.
On Saturday, we formed two work crews to tackle jobs both inside and outside the roundhouse.
The indoor crew donned harnesses and went up in a scissor lift to salvage a number of original light fixtures with shades and glass globes. These were planned to remain in place above Leon's foyer but we think they will be better appreciated as working fixtures in the museum. This project ceased after only eight fixtures were moved when the lift ran out of battery power but we will continue another day.
The outdoor crew moved a number of heavy items away from the corner Cabin D used to occupy. This area is soon to be a construction zone for Leon's loading dock. Items moved were the two big stone wooden-wheel assembly jigs weighing well over a tonne apiece (picture at left above), two large compressed-air receiver tanks (middle picture), a smaller tank, miscellaneous large air pipes and a lot of the 1926 embankment fence (picture at the right).
On Sunday, three of us returned to finish off removal of the heavy fence parts, three of which were locked in place by a small tree than had grown up between the fence verticals. A small chain saw took care of that. After lunch we made a side-trip to retrieve parts from our F7 Diesel Cab which had temporarily been stored in Hamilton. We now have the cab doors, seats, brake stand etc stored in the roundhouse against the day we convert the cab into a train simulator.
If anyone reading this can positively identify the use of the two stone wheels we would be pleased to hear from you. They do not appear to be flour-mill stones.
Text by Michael Guy; Photos by Wilson Lau & Michael Guy