From the Archives - TH&B GP-9's on the Turntable!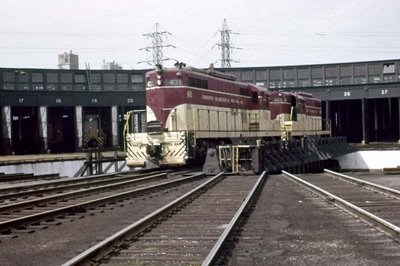 Click on the picture for a closer look!

.
Derek Boles recently acquired on eBay an original colour slide showing two Toronto, Hamilton & Buffalo GP-9s at John St. in 1958.
.
This is the first time that he's ever seen photos of these units on our turntable. Numbers 401 and 403 were two of three GP-9's delivered to the TH&B by General Motors in 1954. They were purchased to replace the two Hudson steam locomotives that the TH&B had acquired from majority owner New York Central in 1948 to haul heavy passenger trains between Buffalo and Toronto.
.
Until 1957, there were four trains a day in each direction with sleepers for Boston, New York, Cleveland and Pittsburgh. By 1964, this was down to one overnight train a day, which was replaced by an RDC day train in 1970. Numbers 401 to 403 were then reassigned to freight service. Passenger service was discontinued altogether over the TH&B route in 1981 and replaced by the Amtrak Maple Leaf, which operates over CN track between Toronto and Niagara Falls.
.
The three GP-9s were each fitted with four air tanks on the roof and were known as "Torpedo Tube Geeps." They were pooled with New York Central diesel power between Toronto and Buffalo. Ironically and unwittingly they were given the same numbers as some of the provincial highways that would replace many passenger trains during the period these units were in service. The TH&B Geeps operated in pairs when pulling long passenger trains and both could just fit on John Street's 120-foot turntable, as seen in the photograph. After the TH&B was taken over by Canadian Pacific in 1987, all three units were remanufactured and continue to operate as CP Rail Numbers numbers 1688 to 1690.
.
The TH&B Railway is commemorated at the Toronto Railway Heritage Centre by TH&B caboose Number 70 and, of course, by TRHC No. 1, painted in the same colours as the GP-9s above.
.
Story and Picture from Derek Boles, TRHA Historian