The Evolution of Roundhouse Park - Part 4 of 7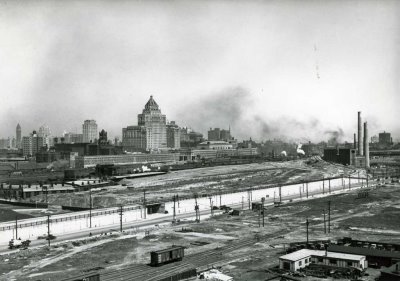 Click on the picture for a closer look!

The above image was taken in early 1929 and the old roundhouse can be seen on the far left. It was located on the lower grade, which was made obsolete by the new elevated Waterfront Railway Viaduct that opened in 1930. The building on the far right with the two tall chimneys was the Central Heating Plant, built by the Toronto Terminals Railway, who also built Union Station. The CHP opened in 1929 and was the largest steam heating facility in Canada. It supplied heat to the Royal York, Union Station and several other buildings and was demolished in 1990.
This photograph was taken from the top of the Toronto Terminal Grain Elevator, which opened in 1928 at the foot of Peter Street and was itself demolished in 1982-83 as part of the $250 million Harbourfront redevelopment. The tracks running along the bottom of this view form the Canadian National Railways "High Line," built so that CN freight trains could bypass Union Station. The road opening under the tracks is for lower John Street, soon to be renamed Rees Street, since the John Street bridge over the railway corridor was being demolished.
The landfill in the centre of this view is for the new roundhouse complex soon to replace the old building on the left. Some of the fill undoubtedly came from the huge pit dug along Front Street for the Royal York Hotel, briefly the tallest building in the city and which was also built by the CPR. The road running parallel to the High Line is Fleet Street, later renamed Lakeshore Blvd. The strip of land between it and the boxcar would be occupied by the Gardiner Expressway three decades later.
Click here
to read the next in this series of excerpts from Derek's article - The Evolution of Roundhouse Park.
Story by Derek Boles, TRHA Historian; Image from the collection of Derek Boles.