Test Fitting the Steam Engine!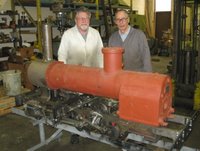 ...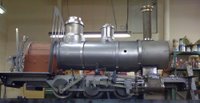 ...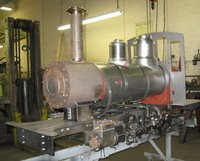 Click on each picture for a closer look!

.
Arno, Brian and Michael met last Wednesday with the TSSA boiler inspector and our engineer. The boiler was looked over and we were given permission to continue to assemble the locomotive and add all the fittings and pipe work after which a 150 psi hydrostatic pressure test will be performed. We still require approval of the boiler as to type and it must have the appropriate number stamped on the plate.
.
After these gentlemen left, the boiler, smokebox, ashpan, cladding and domes were dry fitted to the chassis to see what went where and if it fits. The parts fit very well. In the pictures above we begin to get a sense of what our finished locomotive will look like. The engine will now be disassembled and the chassis flipped over to continue the assembly process.
.
Story by Michale Guy; Pictures by Brian Cole and Michael Guy