Work Party Pushes Progress!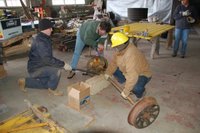 .........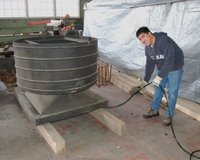 Click on each picture for a closer look!

.
Last weekend, yet another work party pushed progress forward! We removed the last of the "heritage lamps" from Leon's space for later use in the museum. In the picture at the left, Jim, Richard and James wrestle a wheel off a speeder axle in preparation for cleaning and restoring the assembly to usable condition. In the picture at right, Wilson shares a big grin with the camera after successfully wiring and testing a large extractor fan to be used on the museum roof.
Story by Michael Guy; Photos by Lance Gleich