Another Constructive Work Day at the Roundhouse!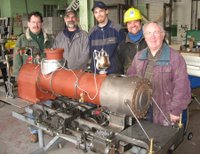 ...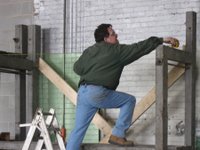 ...
...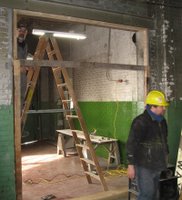 Click on each picture for a closer look!

.
In the picture at upper left we find (from left to right) Richard, Michael G., Jason P., James and Dave them grouped around our miniature steam locomotive which is of course now relocated to the machine shop in the roundhouse. They formed yesterday's work team. In the next picture, the new storage rack is being carefully measured by Richard before cutting timbers to complete the structure. In the next picture we find Jason continuing to clean and polish our engine lathe. Finally in the rightmost picture we can see the newly painted wall in the blacksmith's area where our new miniature steam locomotive will be completed. We also find Michael G. and James working to build a door for this opening to help seal off this area.
.
A bonus addition for the blacksmiths (shop courtesy of Arno) is an old but excellent 1.5 ton chain hoist which is now hanging from the original overhead beam and dolly. It fits perfectly and looks like it was there forever. This hoist will be essential when the time comes to remove the locomotive boiler for the paint stage of construction.
.
Story and pictures by Russ Milland