From the Archives - The Central Heating Plant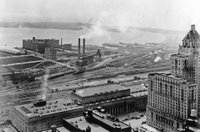 ...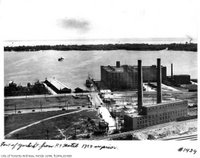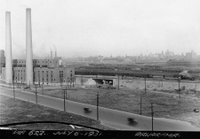 ...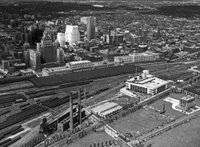 Click on each picture for a closer look!
.
The four pictures above all show the Central Heating Plant (CHP). The top two pictures are from 1929. The picture in the lower left is from 1931. The right hand picture was taken in the 1950's.
.
In October 1928, the Toronto Terminals Railway began building the Central Heating Plant at the northwest corner of York Street and Fleet Street (now Lakeshore Boulevard). The new facility replaced the old Toronto Hydro Scott Street plant, which was expropriated by the Toronto Terminal Railways (TTR) for the building of the railway viaduct. When the CHP was completed in 1929, it was the largest such facility in Canada. The building housed eight boilers and was 275 feet long and 60 feet wide. There were two smoke stacks, each 232 feet high and later extended by 100 feet. The plant was fuelled with coal brought in on a Canadian National siding that led from the High Line. At its peak, the CHP could produce 330,000 pounds of steam per hour or an average of 600 million pounds annually.
.
The plant provided steam heat piped through underground tunnels to a wide variety of railway facilities including Union Station, the CNR and CPR express buildings flanking the station and the CPR John Street roundhouse, as well as supplying heat for individual passenger cars stored in the coach yard. The steam used for the direct steaming process in the roundhouse's resident steam locomotives also came from this source and was piped over each stall. The CHP also heated the Royal York Hotel, the Dominion Public Building, the Postal Delivery Building and the CN/CP Telecommunications building at Front and Simcoe Streets. Later the plant was converted to natural gas. In the 1980s the Toronto Terminals Railway decided to purchase their heating capacity directly from a commercial supplier and the Central Heating Plant was demolished, with the stacks tumbling down on June 17th, 1990 as described in a previous post. Even today, a system of tunnels radiates from the site of the CHP to Union Station and other buildings.
.
Story by Derek Boles, TRHA Historian; All images from City of Toronto Archives