From the Archives: Toronto's 1st Union Station - Part 1 of 8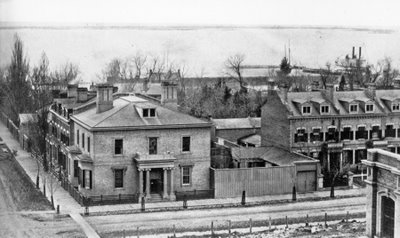 Click on the picture for a closer look!

2008 marked the sesquicentennial or 150th anniversary of the first Union Station in Toronto. The railway era began in Toronto in 1853, when the first Ontario, Simcoe & Huron Ry. train departed from the city for Machell's Corners, thirty miles to the north. A year later, that community was renamed Aurora. The Toronto passenger station was located on the south side of Front Street about where the eastern entrance to Union Station is today. The Great Western Railway opened between Toronto and Hamilton in 1855 and built its own station at the foot of Bathurst Street.
In October 1856, the Grand Trunk Railway (GTR) opened between Toronto and Montreal and between Toronto and Stratford although the two separate lines did not yet connect. The Western Division from Stratford terminated at Queen's Wharf near the foot of Bathurst Street. The Eastern Division from Montreal ended at the first Don Station located on the west side of the Don River. Passengers traveling through Toronto were carried by horse-drawn omnibus between the two terminals until early 1857, when the Grand Trunk joined the two divisions by building a right of way along the Esplanade.
The first Grand Trunk downtown station opened on February 12th, 1857 adjacent to the original Ontario, Simcoe and Huron station on Front Street. This structure was located close to the present Scotiabank entrance to the east wing of Union Station. Newspaper accounts describe both stations as rudimentary wooden sheds and both were soon replaced. There were by then three railways in Toronto and there wasn't enough room for them between Front Street and the top of the embankment above the waterfront. It was at this point that the filling in of Toronto Harbour began in earnest, with the railways quickly occupying the new real estate and the wharves extending further out into Lake Ontario.
The illustration above is one of the famous Armstrong, Beere and Hime series of panoramic photographs taken from the roof of the Rossin Hotel. The shoreline at the center of the illustration was to be the site of a new station that would replace the two earlier structures on Front St. The new station was to be built by the Grand Trunk and would be a "union" station, a facility that is used by two or more railway companies.
Click here
to read the next in this series of excerpts from Derek's article on Toronto's 1st Union Station.
By Derek Boles, TRHA Historian