Is There a Plumber in the House?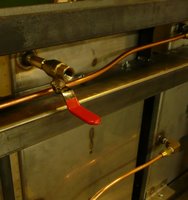 ...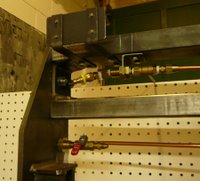 ...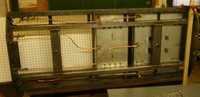 Click on each picture for a closer look!
.
Just when you think you have an almost finished steam engine and tender, you are challenged with the need to work up all of the water and steam lines and associated fittings. You quickly discover that this work seems to take a lot longer than one expected. This was my experience with completing what looked like a finished engine of my own that I had bought from a fellow modeler.
.
Our "tender men" have just invested the needed time and energy and have completed the "plumbing" for our steam engine tender. In the pictures above you can view some of their handiwork. In the picture at the right, you will find a complete view of all of the plumbing required to bring fuel oil and water to the front of the tender where flexible hose connections will bring these essential fluids to the engine itself. As you can see, we have fitted valves in various spots to allow us to control the flow of these fluids and to drain the tender tanks if necessary.
.
The tender is now ready to be shipped out to the roundhouse where it will be temporarily united with the steam engine which will be arriving there as well in the next few days from our other assembly facility. The next step will be to disassemble both to be able to ship the appropriate parts out for painting using a powder coating paint process.
.
Story by Russ Milland; Pictures by Michael Gibbon