Toronto, Hamilton & Buffalo Caboose #70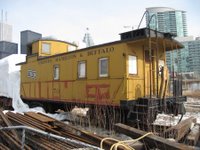 ...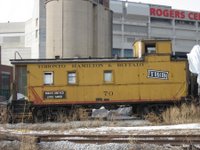 ...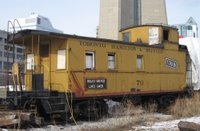 Click on each picture for a closer look!

.
The museum's collection of railway equipment includes Toronto, Hamilton & Buffalo Caboose #70. Currently it is being stored outside while renovations to the roundhouse are underway. The protective coverings have been temporarily removed allowing us to bring you these pictures of the unrestored caboose. The history of this caboose is captured in the Collections section of this website. It says .....
.
"This steel-sheathed, woodside caboose was constructed in 1921 by the TH&B Railway in its Aberdeen (Hamilton) shops using some components from caboose #51 acquired in 1907 from the Michigan Central Railroad Its present appearance came about in the 1950's when steel sheathing was added. Around 1954-1955 it received the yellow paint scheme already being applied to their boxcars since early 1952. The TH&B chose yellow and black from the colours of the Tiger Cats football team in Hamilton. ........
Click Here for more information
...."
.
NOTE: If you have pictures of this caboose in operation please contact Russ at
trainz@cogeco.ca