Another Productive Saturday by our Roundhouse Work Crew - Part 1!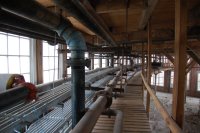 ...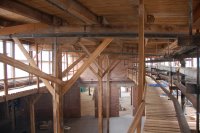 ...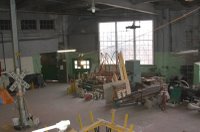 ...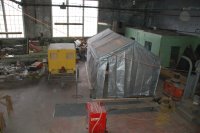 Click on each picture for a closer look!
.
The weather on Saturday started out nice and warm but turned very wet after lunch. Nevertheless, a great crew consisting of Lance, Jon, Dan, Mike S., James, Jason P., Bob and Richard turned out for a full day working session.
.
Richard and Jon pushed the speeder passenger car construction forward. We are at the stage of fitting the backrest planks, all of which terminate in compound angle cuts which must be exactly right or they look awful. This takes lots of time and care. Construction will continue next week. Richard M. brought in the newly repaired and somewhat antique church pew which we had found in the roundhouse in a sad state.
.
The pictures above are the first pictures we have published which are taken of and from the catwalk high up inside the roundhouse. The right hand two pictures provide a great view of the cleaned machine shop area.
.
Further work also continued on preparing the steam engine and miniature railway track components. We will report on this work over the next two days right here!
.
Story by Michael Guy; Photos by Lance Gleich