Another Productive Saturday by our Roundhouse Work Crew - Part 2!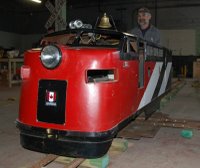 ...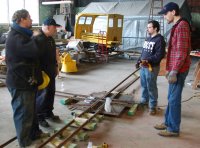 ...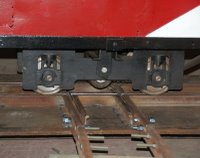 ...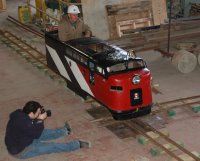 Click on each picture for a closer look!
.
After completing the work described yesterday and a well earned lunch break, all hands engaged in miniature track building. As shown in an earlier posting here, the miniature railway will operate on a track in a "figure 8" configuration requiring the construction of a crossing. This was completed and the new crossing is now on the floor with twenty feet of track on either side of it. This is a trial assembly to prove our assembly methods and check the crossing. We tested the crossing with our big miniature "CN" F7 diesel locomotive.
.
Everyone who wanted to run the locomotive up and down the track listening to the "clunk-clunk clunk-clunk" noise as it went over the crossing. In the pictures above, we capture the action as the crew tests the crossing. But you had to be there to hear it!
.
It was a good day and a lot of fun.
.
Story by Michael Guy; Photos by Lance Gleich