A Busy Weekend for the TRHA Crew - Part 1 of 2!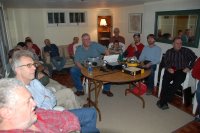 ..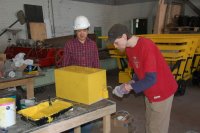 ..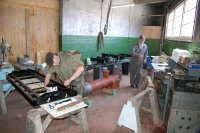 Click on Each Picture for a Closer Look!
.
Last Friday was "film and slide night" for the TRHA crews and a delightful evening was spent nourishing ourselves in body and spirit as we drank, munched and watched a series of slide presentations presented by Derek Boles (see in the photo above) and other TRHA members. But the star of the show was some very rare movie footage of the 1939 Royal Tour train which recently came to the attention of the Culture Division of the City of Toronto.
.
The next day (Saturday) was a lovely warm and sunny day today which brought out our TRHA Roundhouse team (Lance, Richard M., Jason P., Dan, Arno, Dave, Wilson, Jon, James and Michael G.) to continue working on numerous projects.
.
The power box for the speeder car drumhead was painted bright yellow as we see in the picture above. Jon continued to paint components of the miniature locomotive while Arno focussed on reassembling the locomotive as shown in the above picture.
Story by Russ Milland, Pictures by Lance Gleich