CNR Northern 4-8-4 #6218 in Action!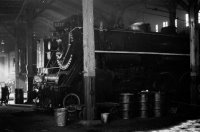 ..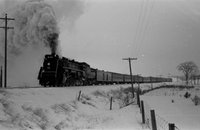 ..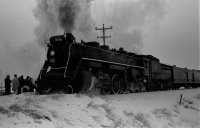 ..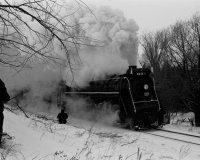 The photos of CNR Northern 4-8-4 #6218, a sister locomotive to our #6213 above were taken by John Vincent back in the 1960's. In the picture at left we find #6218 in repose in January of 1966 in the CNR roundhouse just west of our CPR roundhouse. The other three pictures show #6218 pulling an excursion train in February of 1967. I personally remember these excursions as really exciting adventures. Click on each picture for a closer look!
.
Montreal Locomotive Works (MLW) built 6218 as part of the CNR's #6200 to #6234 series. #6218 had an eighteen year working career throughout Canada. In the east, it serviced the Montreal to Halifax 840 mile run. In the central zone, it performed international service between Montreal and White River Junction,Vermont. In the west, the 6218 crossed the prairies as far as Saskatoon. It was retired from regular service in 1959.
.
After a brief period of inactivity from 1959 until 1964, #6218 was repaired and rehabilitated at the Stratford Motive Power Shop. From 1964 until 1971, #6218 pulled excursion trains for six and a half years, making 91 trips and thrilling over 50,000 rail fans. #6218 was the last steam engine to carry rail passengers in Canada. #6218 was finally retired permanently in 1973.
.

The engine and its tender were then given by the CNR to the Town of Fort Erie. It is now a centerpiece of the Fort Erie Railroad Museum. There, it is on display along with CNR caboose #79138 built in 1944. Visit their website for more pictures and information.
.
Click on the picture for a closer look!
.
Story by Russ Milland; Pictures by John Vincent