Pierre Berton and the National Dream - Part 5 of 10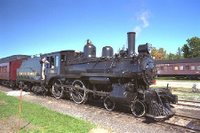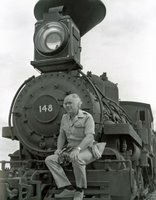 At the far left, we see a picture of Locomotive No. 136 at the South Simcoe Railway in Tottenham ON (Photo by Royce Mabee).
At the left we see Pierre Berton perched on locomotive No. 136 while filming the National Dream (1973).
Click on each picture for a closer look!

.
This is the fifth in a series of ten posts from an article prepared by Derek Boles, our TRHA historian on the occasion of the 35th Anniversary of the Groundbreaking TV "National Dream" Series - Russ Milland

The most important "prop" used in the production was an operating steam locomotive authentic to the period. The CBC approached the Greater Winnipeg Water District for the loan of their 4-4-0 built in 1882 but they refused since the engine was still being used for excursions on the Prairie Dog Central tourist operation.
The locomotive finally settled on was ex-CPR 4-4-0 No. 136, leased from Ontario Rail. Although the engine had been built by Rogers in 1883, it had been heavily modified early in the 20th century and was no longer authentic to the period required for the filming. The locomotive was refurbished at Hume Equipment in Milton, Ontario, then moved by truck to Canadian Pacific's John Street Roundhouse in Toronto for final commissioning work and paint. Several cosmetic alterations were made, including a wooden cab, long pilot, oil headlight and several different smokestacks. Removable numbers on the cab and tender and other embellishments enabled No. 136 to portray at least three different locomotives in the production.
By Derek Boles, TRHA Historian
Click here
to read Part 6.
Click here
to return to Part 4.