This Week Saw a Number of Tasks Addressed!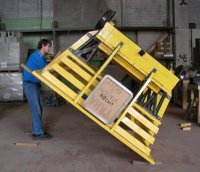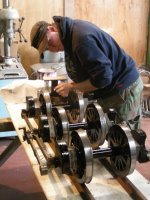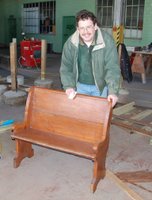 Click on each picture for a closer look!
This week, Jon, Mark and Michael G. formed a small work team and addressed a number of tasks. Mark finished painting the underside of the speeder car and then assisted in turning it over as shown in the picture above.
Jon made several visits to the roundhouse this week and spent his time applying gloss black enamel paint to the miniature locomotives driving wheels. This is a slow and tedious job due to the spoked design of the wheels. Jon and Michael then stripped the boiler and smoke box off the mainframes to make the frames ready for Jon to paint as well. In the picture above we see Jon applying paint to the wheels and chassis.
In the right hand picture above we find Richard M. and the restored bench. The bench had been stored in a delapidated state in the Roundhouse for many years.
Here is his story about the bench:
"I have finished the repair of the broken heritage bench I took home from the machine shop. I pulled it all apart, removed the finishing nails (my father insists the nails are not that old and show that someone tried to fix the bench in the last 50 years or so), scraped off the dried heritage glue and applied new glue, and replaced the nails with 2" stainless wood screws, countersunk and hidden with putty to blend with the antique pine finish. The bench is now reinforced with a 1" x 4" pine stretcher board glued beneath the seat, stained to match and anchored in stopped dado grooves chiseled into the inside of the ends. My wife is convinced that it is a church pew as she noted the little round "rubber thingy" at the base, which likely held the mechanism for the drop-down cushion the worshippers kneeled on."
Story by Russ Milland; Pictures by Michael Guy