Getting #6213 Ready for the Big Move!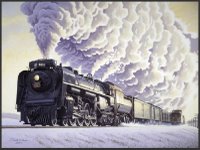 At left is an image of a painting, "Northern Light" of CNR Northern 4-8-4 #6213 by David Oram; Reproduced with permission.
.
Click on the picture for a closer look!
.
As noted briefly in our "weekend report", last Saturday, Grant Kingsland and crew started work on preparing #6213 the move to Roundhouse Park. Grant sent us the following report.
.
"Yes! We made excellent progress yesterday. While there are still some journal boxes on the tender frozen to the pedestals, we were able to lift all boxes and/or truck frame high enough to allow removal of each wedge and brass for inspection. All journal tops are in A-1 condition, completely clean and with a healthy film of oil. The bottoms of the journals may need some attention but are not bad, they are good enough for the limited amount of use they will see for the move but I still hope to get some w ork done on them anyway.
.
All of the flexible Barco air and steam lines between tender and loco were removed. After many futile attempts at budging the drawbar pin on the tender - we actually lifted the entire front of the tender at one point - it became obvious that this was not going to work, so I resorted to Plan B, let's try the drawbar pin on the engine. Although this is the one I honestly suspected would be the problem one, with the jack under it, the pin bumped up quite freely then floated down (a little) on its own when the jack pressure was released. We determined that there were likely some high spots from wear on the pin that were catching on the bushings on the way down, but with lots of effort, and determination, we finally got it out.
.
For separating the tender, the only job remaining now is the the stoker. This should not be a major challenge but there is a good chance that the bolt in the universal joint coupling in the rear bowl will have to be cut with a torch. Among the big jobs done yesterday was the dis-assembly of the radial buffer. It actually came apart more easily than I thought it would and even the wedges are loose"
.
Bob was also there to witness and capture on video the event and a lot of close-in detail shots of much of the engine.
Click on the link below to watch these videos.
.
Posted by Russ Milland; Story by Grant Kingsland; Video by Bob Dickson
.
.