More Preparations by the TRHA for Track Laying by PNR Railworks!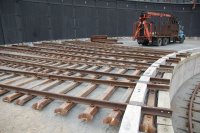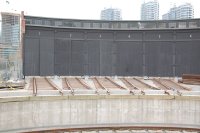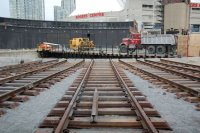 C
lick on each picture for a closer look!

.
Last Thursday at the roundhouse PNR Railworks began to lay track starting at stall 1 while continuing to grade and fill under the coaling tower making it ready as well for track.
.
Dave and I planned to be there only for the the morning to move Engines #7020 and #1 from the temporary track they have been trapped on all winter on to the turntable. As it turned out his exercise took all day! With help from the PNR Railworks crew we pieced together track to connect the temporary track to the turntable bridge which required going over the new concrete pit fence foundation. We then drove loco #1, pushing #7020, over this temporary arrangement. This took quite a while carefully moving one axle at a time onto the bridge. We didn't get done until after three p.m.
.
However, by day's end, as you can see in the pictures above, there were rails to stall #1 for the first time in a decade.
.
Story by Michael Guy; Pictures by Lance Gleich