PNR Railworks Tracklaying Equipment in Place!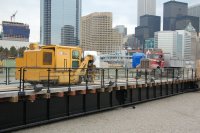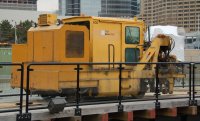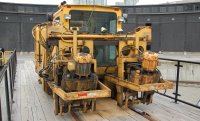 Click on each picture for a closer look!
.
Last Friday, Wilson and I were the duty crew all day coordinating with the PNR Railworks
crew who are reconstructing the radial tracks connecting the turntable to the roundhouse. All 32 tracks are being replaced using original 100 pound "T" head rail but with new steel ties and pandrol clips.
.
The three major pieces of equipment that PNR Railworks are using for track laying are a tamper (see photos above) to tamp down the ballast to provide a firm base for the track, a special dump truck (see
.photos above and below) to place the ballast properly and a truck to unload the steel ties and rails (see photos below).
.
The morning got off to a slow start but activity picked up after lunch as we loaded the ballast tamping machine and a "hy-railer" dump truck from temporary track #1 to the turntable bridge. This sounds easy but it meant moving engine #7020 using engine #1 to one end of the turntable bridge first, loading the tamper, spinning the whole thing 180 degrees, then offloading the two locomotives back onto temporary track #1. PNR Railworks foreman Joe Vaz then drove the dump truck "cross-country" over the tracks to get to the truntable bridge. Once there its rail wheels were lowered into place.
.
Next week when ballasting starts the turntable bridge will be used to transfer the dump truck loaded with ballast stone back and forth from a loading position to the relevant radial tracks and to also transfer the tamper from track to track as needed.
.
Story by Michael Guy; Pictures by Lance Gleich
.
Click on each picture for a closer look!