Progress as Viewed from the Coaling Tower!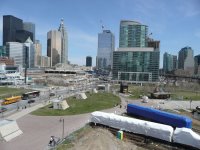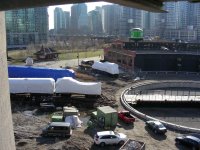 Click on each picture for a closer look!
.
Further to yesterday's news item on the coaling tower interior, today we are posting pictures of the roundhouse area as viewed from the coaling tower. In the picture at the upper left, we see that Cabin D, the Watchman's Shanty (wrapped in white plastic) and Don Station are now in their final positions. In the remaining pictures, we have a fine view of the work being undertaken by PNR Railworks to grade the area between the turntable and the roundhouse and the start of their track laying.
.
Posting by Russ Milland
.
.
.