Progress Report from Last Weekend's Work Party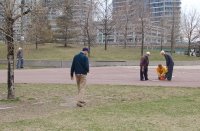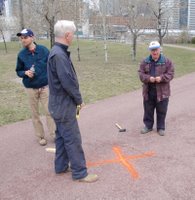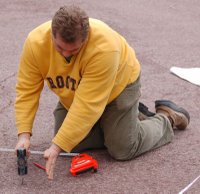 Click on each picture for a closer look!
.
Last Saturday, we had an excellent turnout with all the usual suspects present. Mike S., Arno and Jon continued with pipe work on the miniature loco which is nearing completion. The TSSA inspection and hydrostatic boiler test is expected to take place this coming week and we are looking forward to being able to do a steam test and some de-bugging work soon. There are always things we missed and leaks to fix on a first steam up of a new locomotive.
.
As shown in the pictures above, James headed up a crew of Dave, Wilson, Jim, and Jason P. working on a preliminary survey and marking of the miniature track alignment on the east side of the park. The place is currently dotted with orange markers for both the key measurement points and the crossover location.
.
Lance and Bob did a variety of unglamorous but necessary work which included nailing plywood sheets down to protect the turntable deck from oil drips and leaks emanating from equipment brought in by PNR Railworks this week to proceed with the laying of the tracks.
.
Richard M. briefly assisted by Jason P. went off to help Grant on CNR 4-8-4 Northern #6213 at the CNE. Work there has progressed to the point where one stubborn bolt inside the stoker screw drive is all that prevents the tender from being separated from the locomotive.
.
Story by Michael Guy; Pictures by Lance Gleich