Separating CNR 4-8-4 #6213 from its Tender!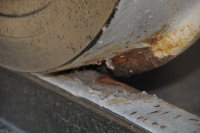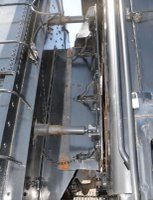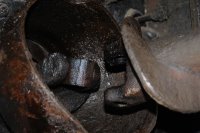 Click on each picture for a closer look!
.
The Toronto Locomotive Preservation Society (TLPS) have been caring for #6213 since she was donated to the City of Toronto by the CNR. They reported today that locomotive #6213's tender was successfully separated and moved a few inches away from the locomotive. This is significant because today marks the first time this preserved locomotive has turned any wheel in forty-nine years. In May the engine will make the journey from Exhibition Place to the Toronto Railway Heritage Centre at the John St Roundhouse.
.
In the photo at the left above, we see a tender wheel showing a rusty unpainted mark after it was rolled a few inches. The next photo shows unpainted marks where the tender (left side) has moved to the left, allowing the spring-loaded chafing plate to extend further towards the loco cab (on the right side). In the final photo at the right, we see a part of the locomotive never seen other than by maintenance crews - the lower universal joint of the (coal) stoker screw drive. Here, the pivot pin has been removed allowing the tender to part it from the locomotive.
.
Story by Michael Guy; Pictures by Grant Kingsland of the TLPS