Happy Birthday to the Toronto Railway Heritage News Group!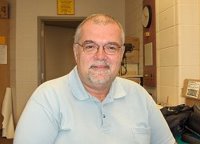 Yesterday marked the 3rd anniversary of the launch of the Toronto Railway Heritage Group (ToRyHeritage) on the Yahoo Groups system by Derek Boles, our TRHA historian (pictured at left). In this list, Derek posts each day significant Canadian railway events that occurred on that day in the past. This often leads to some lively exchange with list members and certainly adds to our collective knowledge of Canadian railway history.
.
Currently 175 subscribers to this list enjoy the postings and the dialogue. One can also find a great set of links to other websites as well as a gallery of relevant photographs and other files.
.
Below is today's posting to give you a sense of what is shared by Derek on this list.
.
April 13, 1912:
.
"The Canadian Northern Railway sends its new gas-electric car No. 500 from Toronto to Trenton, 115 miles to the east, for testing on the Central Ontario Railway. A few days later it was put into revenue service on the 32-mile line between Trenton and Picton. This was an early attempt by the railways to save operating expenses by utilizing a self-propelled combination baggage/coach that required a smaller operating crew than a conventional steam-hauled passenger train. As well, fuelling an internal combustion gasoline engine was cheaper and less complicated than coal. Both successor Canadian National and the Canadian Pacific Railway would operate a number of gas-electric units. However, self-propelled cars would enjoy limited success on lightly traveled branch lines until the 1950s when Budd-built Rail Diesel Cars gradually took over virtually all short- and medium-distance non-commuter passenger trains outside the heavily traveled corridors."

.

April 13, 1912:
.

"By noon, R.M.S. Titanic is approximately 1,000 miles across the Atlantic from the Irish coast. Another First Class passenger with railway connections was H. Markland (Harry) Molson of Montreal, a banker and heir to the Canadian beer dynasty. His great-grandfather, John Molson, had initiated steamboat service on the St. Lawrence River in 1809 and was the principal proprietor of the Champlain & St.
Lawrence Rail Road, Canada's first railway, that began operations near Montreal in 1836. Also on board was French sculptor Paul Chevre, who had been commissioned to create a bust of former Prime Minister Wilfred Laurier, to be displayed in the lobby of the Grand Trunk's new Chateau Laurier Hotel in Ottawa, scheduled to open on May 1.Contrary to popular legend, the bust was not on board the Titanic but had been sent over on another ship."

.

"Postings by Derek Boles, Toronto Railway Heritage Moderator"
.
Congratulations to Derek on the ongoing success of this venture.
.
If you are interested in receiving these postings,
click here
to join the list!
.
Story by Russ Milland