#6213 Moves for the First Time Since 1960!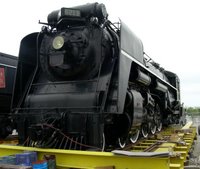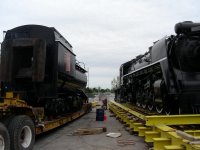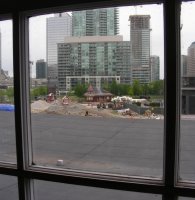 Click on each picture for a closer look!
.
Last Tuesday (May 26, 2009) at 10:15 in the morning, our CNR Northern 4-8-4 steam locomotive #6213 moved for the first time since 1960. I conspired to be in the cab at the time and can say that there was not a single squeak or groan from the machinery. It was as smooth as glass. The winch operator said the engine was so easy to move it was difficult to keep any tension on the cable. Congratulations to Grant Kingland and the TLPS (Toronto Locomotive Preservation Society) for their decades of dedicated work and care in maintaining the engine.
.
In the pictures above, we find the engine and the tender resting on the platforms which will be used to move them to Roundhouse Park likely later next week. In the picture at the upper right, we see a new picture of the buildings in Roundhouse Park from an interesting perspective high up in the roundhouse. In the movie below, you can watch #6213 very slowly being moved for the first time since 1960.
.
Posting, pictures and movie by Michael Guy
.