The Canadian Railway Museum - Toronto Opens in 1975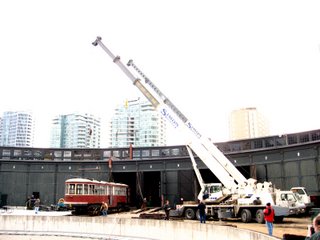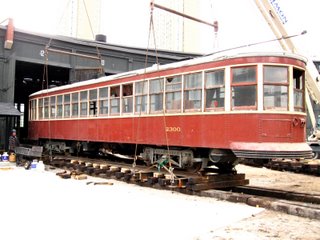 Click on each picture for a closer look!
.
Today, Derek Boles, our TRHA historian posted the following on the
Toronto Railway Heritage Yahoo Group
today as one of several items of historical interest on this day of the year:
"May 17, 1975:
The Toronto & York Division of the Canadian Railroad Historical Association officially opens the Canadian Railway Museum - Toronto. The opening ceremonies involved CN excursion steam locomotive No. 6060 pulling museum equipment across Lakeshore Boulevard, preceded by the Band of the Royal Regiment of Canada. The museum itself was located in the Spadina Quay area of the newly acquired Harbourfront park. In its heyday, the collection comprised of sixteen pieces of railway equipment. The museum proved untenable over time and began to dispose of its collection in 1987. Some of the equipment was subsequently scrapped; some dispersed to other museums; four pieces were stored in the CP John Street roundhouse. These included TTC Witt streetcar No. 2300, a 1917 boxcar, a 1938 vinegar car and a 1907 TH&B caboose. The streetcar was returned to The Canadian Railway Museum in 2008."
.
In the pictures above, see TTC Witt streetcar No. 2300 being removed from the Roundhouse one year ago today on May 17th, 2008 prior to being transported to the
Canadian Railway Museum
in Montreal.
.
If you wish to receive Derek's daily postings in your e-mail or read them online, join the Yahoo Group by
clicking here
.
.
Posting by Russ Milland; Pictures by Dan Garcia