Doors Open: Diaspora Dialogues in the Great Hall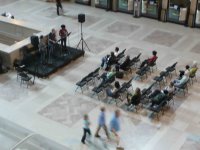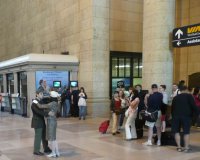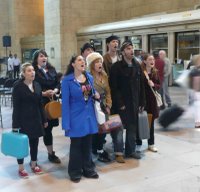 Click on each picture for a closer look!
.
As reported earlier, the Diaspora Dialogues presented some fiction and poetry readings as well as several dramatic presentations in the east end of the Great Hall. The Diaspora presentations were thematically linked with Union Station or people in transit.
.
In the picture at the left above, we first see the Diaspora Dialogues set up on the floor of the Great Hall where literary readings and other performances occurred. In the middle picture above, we see that the dramatic presentations were typically staged out on the floor, including this World War 2 vignette, "Cheek to Cheek." Guided tours began here right after
the dancers departed. In the picture at the upper right, several students from Humber College's theatre program staged "The Bridge We Walk," a performance inspired by the city names carved high above the floor of the Great Hall.
.
One of the most intriguing numbers was "Suite Case," where a soprano sings while dragging out a large suitcase. In the picture at the left below we see here making her entry from the waiting room at the west end of the great Hall. After she pauses, a hand emerges from the suitcase ......and tries to crawl away. In the final picture, a Red Cap (actually Laird Macdonald, the DD coordinator at Union Station) is summoned to carry the suitcase away for loading onto a baggage car.
.
Posting and pictures by Derek Boles
.