More Preparations of #6213 for the Big Move!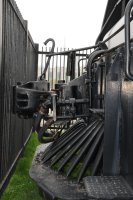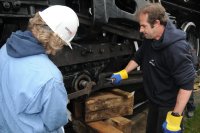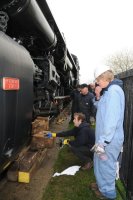 Click on each picture for a closer look!
.
Preparing the massive #6213 steam engine for the imminent move to Roundhouse Park is a formidable task. This condensed version of a recent work report from Grant Kingsland gives the reader a sense of the work effort involved and the challenges tackled:
.
"After 6213 (engine) was successfully moved ahead, we realized that she was too far ahead and we could not remove the wrist pin from the crosshead. we used our come-along cable pullers to tie on to the tender and pull the engine back - it worked with the help of three car movers as well. We eventually got the main rod off working between thunderstorms which unfortunately lost a lot of time for us.
.
The left side coupling rods cannot now be removed as the wheels are in the wrong position to take the knuckle pins. Setting up the come-along for moving the engine is very time consuming so we decided to defer this work until a time when a heavy tow can more easily move the engine on an upcoming weekday."
.
In the pictures below we see a platform being prepared unto which the locomotive tender will be rolled to provide a base for its transport to Roundhouse Park.
.
Posting by Russ Milland; Pictures by Grant Kngsland (above) and Bob Dickson (below)
.