Toronto Doors Open is This Weekend - May 23rd and 24th!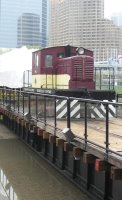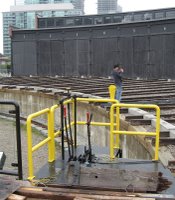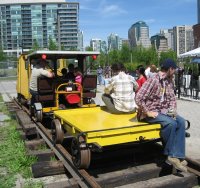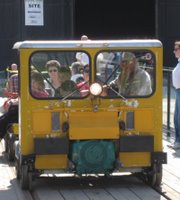 Click on each picture for a closer
look.
.
The
Annual Tor
onto "Doors Open" Event
will be held this weekend across the city. The
Toronto "Doors Open" website
offers the following information:
.
"The City of Toronto's Cultural Services is proud to present the annual Doors Open Toronto - one weekend, once a year - when 175 buildings of architectural, historic, cultural and social significance open their doors to the public for a city-wide celebration. The program allows visitors free access to properties that are either not usually open to the public, or would normally charge an entrance fee. Many locations have organized guided tours, displays and activities to enrich the visitor experience. See Toronto like you've never seen it before!"
Visit here
on their website to view all 175 sites open this weekend!
Here are four venues of interest to those of us fascinated by the technologies and stories around our local transportation systems. Do follow the links below to check for hours and days of operation. Some sites are open only for one of the weekend days.
TTC - Greenwood Maintenance Shop
"Greenwood Shop is one of two heavy repair and overhaul facilities for the TTC. It is part of the 31 acre Greenwood Complex which opened in March 1960.The shop covers approx. 190,000 square feet and is the workplace of almost 200 employees. Major vehicle overhaul work and component rebuilds to support the fleet of subway vehicles is done here." ...
Read More

TTC Eglinton Garage/Division
"Eglinton Garage/Division opened on March 31, 2002 and consists of 121,000 square feet situated on a 15.7 acre site. The garage services a fleet of 250 buses. The facility also features two bus wash racks, 12 indoor repair spaces and an outdoor bus storage area with a unique heating system which allows parked buses to be connected so that their engines are warm and ready to drive during the winter season." ....
Read more

John St Roundhouse
"The Roundhouse and Roundhouse Park are being renovated, in part, as the Toronto Railway Heritage Centre, come visit us and see the progress! Walk aboard our fully restored 1929 locomotive turntable, the largest in the country! Take a speeder ride to visit our railway heritage village featuring Don station. Visit the roundhouse and be amazed!" ...
Read More
Union Station
Union Station was built as a joint construction project by the Canadian Pacific and Grand Trunk Railways to replace an older facility west of York St. Officially opened by the Prince of Wales on Aug.6, 1927, the station was designed in the grand manner of the Ecole de Beaux-Arts in Paris. The station is massive and takes up an entire city block along Front Street between York and Bay Streets. The Great Hall in the Centre Block is 250 ft. long and 84 ft. wide. The ceiling is a true arch of vitrified Gustavino tile with its centre rising to 88 ft. above the floor. Adding further majesty to this magnificent room are arched thermal windows at either end, each four stories high. Below the cornice surrounding the room are carved the names of cities and towns served at the time by passenger trains of the two major Canadian railways. Union Station is a National Historic Site and was designated under the Heritage Railway Stations Protection Act in 1989. Originally owned and operated by The Toronto Terminals Railway Company Limited (a wholly owned subsidiary of CN and Canadian Pacific), the station was sold to the City of Toronto in 2000. It is the busiest transportation hub in Canada. ...
Read More
.
Guided tours of Union Station will be offered by members of the Toronto Railway Historical Association and the Union Station Revitalization Public Advisory Group hourly from 10:15 to 3:15pm.
.
And best of all, all of these offer free admission!
.
Posting by Russ Milland
.
Click on each picture for a closer
look!
.