#6213 Finds Its New Home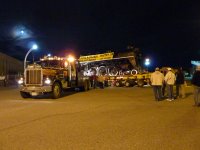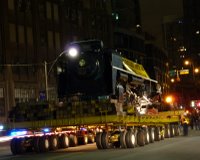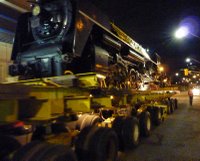 Click on each picture for a closer look!
.
At about 6:00 a.m. this morning, 6213 finally arrived at Roundhouse Park. Here are a few quick pictures and comments re the trip. We will post more information in due course.
.
At the upper left, we find the rig at about 12:30 a.m. making a very difficult U-Turn out of the CNE parking lot onto Newfoundland Drive. This took a couple of hours and put us behind schedule. In the middle picture above, we find 6213 moving down Lakeshore Road. Things moved much more quickly and 6213 easily made up time against the schedule. Just beyond Bathurst Street, a "time out" was called to add two more bogies to the front and to lower two bogies at the back providing 32 more wheels under 6213 for a total of 80 wheels on the ground. The extra wheels were necessary in order to improve the load distribution as the rig went over the bridged section of the Westbound Lakeshore Road just west of Rees Street. In the picture at the upper right, we see 6213 safely leaving the bridged section without any mishaps.
.
In the picture at lower left, we find the massive tow truck used in the move, lifting the front bogies back onto a trailer at Rees Street. The front and rear bogies were only used on the bridged section as their existence would have made turns much more complex. In the middle photo below, we find the rig making another difficult turn at the intersection of Rees Street and Bremner Boulevard in front of the Rogers Centre. Here a centre median in the middle of Bremner left a narrow path just wide enough for the rig. At this corner, the moving crew had to jack up the trailer, turn the bogies about 45 degrees and then use the tow truck's winch to pull the trailer sideways to line it up for the trip down Bremner. In the middle picture, you can see the bogies in this position. Ater this was done, 6213 made an easy trip along Bremner Boulevard as the sun rose and then made a quick turn into Roundhouse Park. The whole rig now rests straddling one of the radial tracks in the park. In a few days the moving crew will carefully align the trailer with the track, remove the bogies, drop down the platform and winch the engine onto the radial track.
.
Congratulations to Laurie McCulloch and his crew (which included his two sons) for a very successful move which ended well ahead of schedule. It was quite a sight to watch their expertise in action. This was their first major steam engine move but their expertise in moving buildings often weighing much more than 6213 served them exquisitely well in tackling this challenge.
.
Posting and Pictures by Russ Milland
.