#6213 is Now a Roundhouse Resident!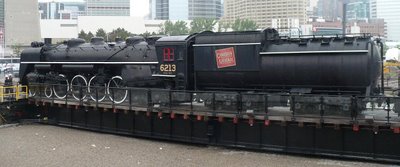 Click on each picture for a closer look!
.
At 6:15 a.m. this morning a TRHA crew arrived at the roundhouse to fire up the turntable and #1 to move #7020 and #7069 off the turntable in preparation for the offloading of #6213 to our trackage by Laurie McCulloch Movers. In due course, #6213 rolled down a track ramp and stopped half on and half off the ramp necessitating a pull by our CLC Whitcomb locomotive #1 to complete the move.
.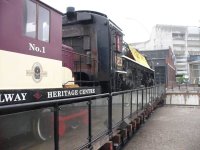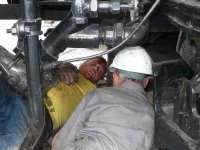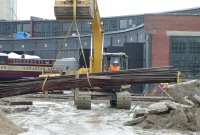 We took a few minutes to put #6213 without its tender onto a radial track to see if there really was room for it but this was regrettably not possible. With the stoker screw up against the door the front coupler still fouled the turntable. Our next order of business was to couple up #6213 to its tender, which we did. Then we moved the whole locomotive on to the turntable for a test fit with both #6213 and #1 on the turntable at the same time. We had more luck with this and it is indeed possible to rotate the turntable with the CLC-Whitcomb #1 and #6213 and tender all coupled together on board without harming the pit rim fence.
.
Posting by Michael Guy; Pictures by Dave Wetherald
.