#6213's Tender Arrives Safely at Roundhouse Park!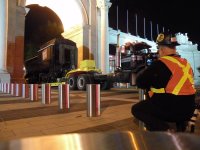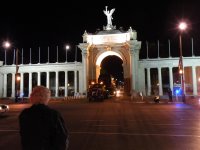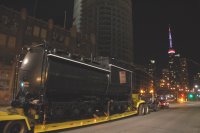 Click on each picture for a closer look!
.
6213's tender was successfully moved last night. It moved through the Princes' Gate at about 1:50 a.m. and arrived at the roundhouse on schedule at about 02:45 a.m. After that things got a little slow and we did not have it free from the mover's tow hook until about 06:20 a.m.
.
In the two pictures at the above left (taken by Michael Guy), we find #6213 moving through the Princes' Gates and the renowned photographer Norm Betts capturing the event. In the next picture (taken by Lance Gleich), the tender passes Bathurst Street on Lakeshore Road and takes aim at the CN Tower. In the final sequence of pictures below (also taken by Lance Gleich), the tender is offloaded at Roundhouse Park and our CLC Whitcomb locomotive put to work pulling it onto the turntable as the sun rises in the wee hours of the morning.
.
Posting by Michael Guy; Pictures by Michael Guy and Lance Gleich
.