Canadian National Leaside Shops Survive Today!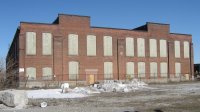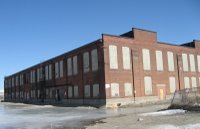 Click on each picture for a closer look!
.
Derek Boles in his daily bulletin on the Toronto Railway Heritage Yahoo Group wrote today:
"June 1, 1934:
On this day in 1934, The Canadian National Roundhouse at Leaside is closed when maintenance equipment is moved to Stratford, Ontario. Originally built for the Canadian Northern Railway, the Leaside locomotive facilities had already been moved to Stratford when CN abandoned much of the CN main line east of Toronto in 1926. The various surviving structures were then used by local businesses, two of which still stand, including the locomotive shop, which was to be incorporated into a new automobile dealer campus."
.
Recently, I drove past the site of these structures and took the pictures shown here. Three of the photos provide different views of the maintenance and repair shop. The last photo (below right) shows the second smaller building which survives as a small office.
.
Join the Toronto Railway Heritage Yahoo Group by
clicking here
and get your daily news feed about historical Canadian railway events.
.
Posting and pictures by Russ Milland
.