More Progress in Roundhouse Park - Part 2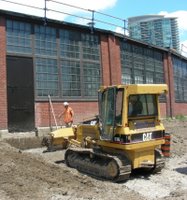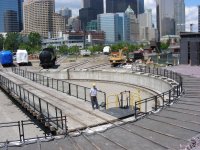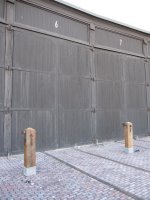 Click on each picture for a closer look!
.
.
In the picture at upper left, the rear entrance to stall 15 begins to take shape. A concrete ramp will be built here to provide an entrance and exit for both wheelchairs and the occasional forklift.
.
The panoramic view in the middle picture shows the beginnings of the final look of the turntable and the park looking north from the museum stalls. The turntable pit safety fence makes its first appearance in this photo. In the picture at the right above, we see the first photos of the finished door posts.
.
Since 1929 a feature of the rear of the roundhouse has been a pair of large air receiver tanks, part of the extensive compressed air supply system associated with both the John St roundhouse and it's now demolished CNR counterpart across the street. Recently there has been discussion of whether these tanks were worth saving or perhaps be scrapped. To clarify the look of these period industrial artefacts, we decided to give them a fresh coat of aluminum paint. In the pictures below, we find the TRHA volunteers painting the tanks. The tank seen here begins to look quite resplendent with its riveted construction and shapely cast-iron legs.
.
Posting by Michael Guy; Pictures by Michael Guy and James Rasor
.