More Progress in Roundhouse Park!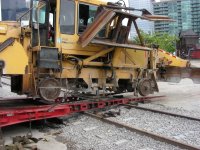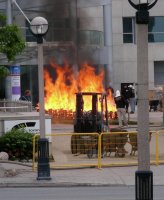 Click on each picture for a closer look!
.
Last week, PNR completed track work in the park and removed their equipment. Here we see the ballast regulator being loaded onto a trailer, note the handy elevating turntable below the unit.
.
Tom Murison has reconstruction of Cabin D well underway. In the second picture, we see here one of his team of expert restoration carpenters at work trimming new cladding shingles.
.
Our attention was caught on Saturday by a sudden conflagration across the road at the MTCC south entrance. This turned out to be an art installation, fire trucks were not required!
.
Posting and Pictures by Michael Guy