More Progress on Many Fronts!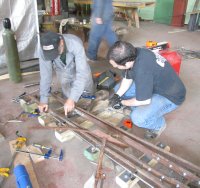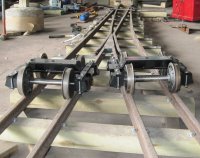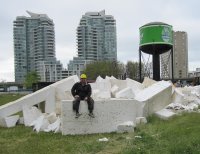 Click on each image for a closer look!
.
Last weekend, TRHA volunteers continued to work within the roundhouse.
.
Space was cleared for the artefacts belonging to #6213 which will be arriving shortly with the locomotive. We also moved a lot of miniature rail stock from stall 15 to the machine shop. A TRHA crew also worked on the #6 switch miniature railway and set up a new 'jig bench' to speed up the construction of these switches as shown in the pictures above. Above, we also see the pile of styrofoam block remants made surplus by the contruction work in the park.
.
In the pictures below, we see that construction in the rest of the park is proceeding rapidly as well. The dramatic shop down one of the rails shows one of the PNR equipment vehicles on the turntable. The next shot show the ballasting proceeding down the longest radial rail towards Cabin D. The final shot below shows the Tool Shed with its new roof installed.
.
Posting by Russ Milland; Pictures by Michael Guy and Tom Murison
.