Multi-tasking on a Busy Father's Day Weekend!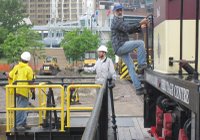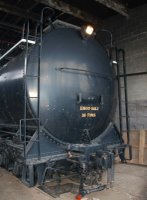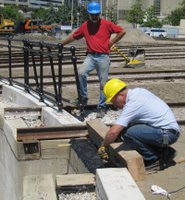 Click on each picture for a closer look!
.
It was a miserable wet day at the roundhouse but with a little juggling of the priority list and fourteen of us on hand on Saturday and three briefly on Sunday, we got plenty done anyway. In no particular order here are the results:
#6213 has its rear steam line reattached and the wiring has been repaired so the headlight, marker lights and number board lights all work again. In the above middle picture we see the rear light shining. This is also the first day in 49 years when it rained that she didn't get wet!
The Sweet Creek miniature loco is finished and ready for a burner and steam test. We also received TSSA approval for the boiler last week as well so all is moving well here. In the picture at below right, we find the team discussing progress on the Sweet Creek.
30 feet of heavy steel miniature track for the north side paved area is welded up and ready to lay and we re-marked the correct alignment for it opposite stall 10. The first miniature railway track leading away from the roundhouse and turntable was put down as shown in the two pictures at the left below.
Track 35 is clear of vehicles leaving the field clear for Pine Valley to complete final landscaping from stall 32 all the way to the east side of track 37.
Our last original Sellers pressure washer has been removed from a stall 17 pillar for safe keeping during renovations.
We almost completed bolting down an 8" x 8" white oak timber required tofinish the pit rim fence foundation but safety concerns of running electrical power tools in the rain stopped us on Saturday. On a sunny Sunday, the timber bit for the fence foundation was bolted down nicely and waterproofed as per the picture at the above right.
We completed laying the necessary thirty feet of miniature track to allow Pine Valley to proceed on Monday.
Last but not least we moved all fifty-six feet of steel work benches and the large work platform back inside and off the patio area.
Posting by Michael Guy; Pictures by Lance Gleich, Stephen Gardiner & James Rasor
.