Readying 6213 to Lower Her to the Rails!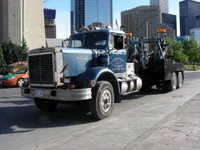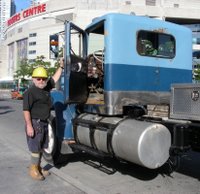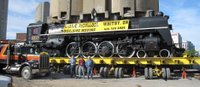 Click on each picture for a closer look!
.
At the crack of dawn on Saturday June 13th, Laurie McCullouch and his crew arrived at the roundhouse to move #6213 sideways a few feet in order to finally position it over the rails onto which the locomotive will be lowered. The horsepower required by attempt one to make this move on Friday proved to be more than one tow truck could provide so a second one was called up.
.
In the middle photograph above, we see Brian Fulford about to enter the cab of his modified 1975 Autocar 564B tow truck. Fully equipped for heavy towing, Brian's truck was set across the Bremner Blvd sidewalk alongside Laurie's 1966 Kenworth and both trucks applied their massive recovery winches to the task.
.
In the photo at the upper right, we find the Kenworth with Laurie McCulloch's partner, Doug (left), Michael Guy (middle) and Laurie McCulloch on the right. In the background, #6213 towers over everyone.
.
Posting by Michael Guy; Pictures by Michael Guy and James Rasor