Roundhouse Park as of Last Tuesday - June 2nd!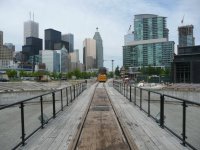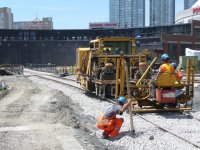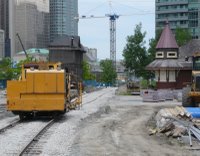 Click on each picture for a closer look!
.
Here are a selection of pictures taken on June 2nd, 2009 capturing a number of views of Roundhouse Park activity.
.
In the picture at the upper left, we see that the Toronto Railway Heritage Centre "main line" now extends from the turntable all the way to the north-east corner of Roundhouse Park at Bremner Blvd and Simcoe Street.
.
In the middle picture above, the PNR crew operates the tamping machine that will result in a high quality roadbed for the longest track at the museum.
.
In the picture at the right above, the newly restored tool shed, also known as "Baby D," glistens in the sunlight. Restoration expert Tom Murison was able to determine these 1890s-era Grand Trunk colours from paint samples still remaining on the wood. Cabin D will probably have a similar paint scheme.
.
In the picture at the lower left below, the main line passes by the Don Station and Cabin D, which together with the tool shed and the watchman's shanty, will form a small "village" of historic railway structures.
.
In the picture at the lower right below, TRHA President Orin Krivel surveys the museum site. Orin and City Project Manager Glenn Garwood have diligently worked behind the scenes to put together the complicated framework for the Toronto Railway Heritage Centre.
.
Posting and Pictures by Derek Boles
.