Some First Views Inside Cabin D!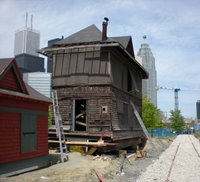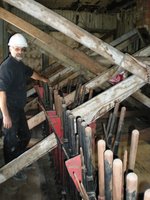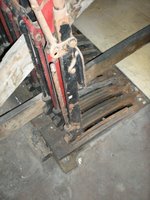 Click on each picture for a closer look!
.
The soon to be restored lever tower Cabin D is seen in the left hand photo beside the newly ballasted track reaching out to the corner of Roundhouse Park. Cabin D has now been stabilized with internal cross-bracing. The imminent restoration will include hooking up certain of the lever rods and electrical contacts which were used to control switch interlocking, as well as the signal light functions. The middle photo shows the bank of levers and the right hand photo shows more detail of the levers at the floor line.
.
This relic of the industrial revolution was in reality a mechanical computer. The levers didn't only set switches and signals - they also set and locked a complex route through a maze of switches in multi-tracked yards and approach throats. Once the route was locked, it's components could not be used or changed by any other operators, ensuring a safe and protected path for trains.
.
The levers, signals, and lights will be refurbished and interconnected so that the system can be interpreted for visitors.
.
Posting and pictures by Orin Krivel, President, TRHA