6213's Tender Hits the Road Tonight!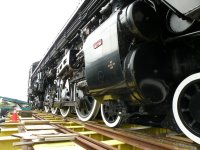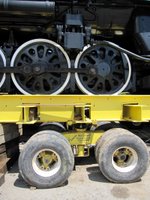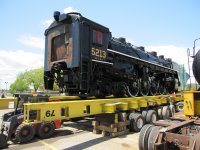 Click on each picture for a closer look!
.
Here is some fast breaking news! 6213's tender will be moved overnight tonight (Wednesday midnight into the wee hours of Thursday) to Roundhouse Park. We expect that the move will begin around midnight from the CNE grounds. The tender will be moved through the Princes' Gates down Lakeshore Avenue. We know that the TTC overhead wires at Bathurst Street will not down before 1:30 a.m. so the tender will not pass that point before then. It is expected that the tender will arrive at Roundhouse park between 2:00 and 2:30 a.m.
.
In the picture at the above left, we see a dramatic shot of #6213 waiting to be fitted with her travel trailer. In the right hand pictures, we find #6213 resting on the float with the road dollies fitted ready to travel. It is now expected that #6213 will be moved sometime next week after engineers complete their load analyses for part of the route where #6213 will travel over an elevated part of Lakeshore Road. Once we know the time and date for the move of the engine, we will post them here.
.
Posting by Russ Milland; Pictures by Michael Guy