Attending the 1st GTA International Miniature Railway Meet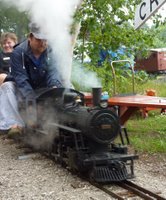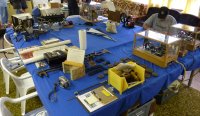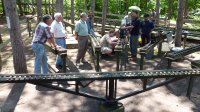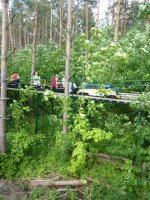 Click on each picture for a closer look!
.
Six of us from the TRHA went up to Richmond Hill Live Steamers (RHLS) today to participate in the 1st GTA International Miniature Railway Meet for miniature locomotive owners. As it turned out a variety of issues prevented any of our American friends from driving up but we had a great time anyway with guests from Montreal and Kingston and one miniature railway enthusiast from England. RHLS has a lovely track location with 4,000 feet of railway running through a pine forest. A ravine across the middle required the construction of a lengthy trestle bridge carrying two tracks some fifteen feet up in the air. Running there is like driving your locomotive through the tree tops!
.
One of the highlights was running a 'triple-header' of three locomotives, a CP 2-6-2 piloting a CP 2-8-0 ahead of a 2-8-2. Running continued after dark with only loco headlights and cab lights for illumination. Driving a large coal-fired locomotive at mainline speeds in the dark is a special and somewhat exciting activity not to be missed if you are offered the chance. This event (which continued on Sunday) will occur again next year but will be hosted by the Golden Horseshoe Live Steamers in Hamilton at the Museum of Steam and Technology.
.
Posting by Michael Guy; Pictures by Russ Milland
.