"A John St. Morning" by David A. Oram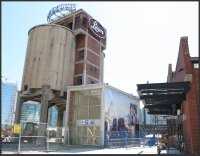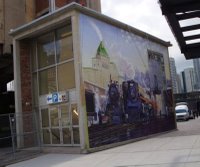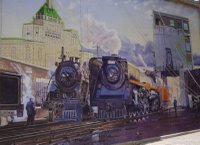 Click on each image for a closer look!
.
One of the new additions to Roundhouse Park is a mural on the side of the structure which houses the main stairwell to the underground parking garage of the Metro Toronto Convention Centre and opposite the main entrance to Leon's. This mural is based on David A. Oram's painting called "A John St. Morning". In the pictures above, the mural was not as yet complete but the actual mural is now complete and well worth a visit.
.
David has produced many wonderful paintings with Canadian railway historical subjects. David has kindly allowed us to use a number of images of his work on our TRHA website. They can be found
here
,
here
, and
here.
To see even more of David's work, visit his excellent
website
and click on "Railroad Art" to see more such paintings.
.
Posting by Russ Milland; Pictures by Lance Gleich & David Oram