Notice: Historical Walk to be led by TRHA Historian Derek Boles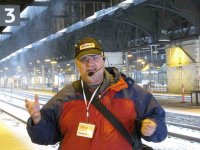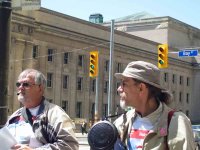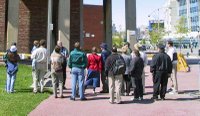 Click on each picture for a closer look!
.
This Saturday, July 11, I will be leading a Heritage Toronto walk, Union Station and the Railway Lands. Here is the description from the
Heritage Toronto website
:
.
"Union Station and the Railway Lands - NEW!
.
Start:
Jul 11 2009 - 11:00 am
End:
Jul 11 2009 - 1:00 pm
.
The Railway Lands around Union Station have undergone several dramatic transformations since 1853, when the first passenger train steamed out of Toronto. Explore Toronto's railway heritage, culminating with a ride on the John Street Roundhouse turntable at the Toronto Railway Heritage Centre.
.
Leader:
Derek Boles, Toronto Railway Historical Association
Start Point:
East side of Union Station GO Bus Terminal, Yonge St and The Esplanade
Finish Point:
The Roundhouse, Rees St and Bremner Blvd
Length:
Approx. 2 hours
Walk Difficulty:
Some stairs and long walks on sidewalks"
.
Unfortunately when I wrote this description a couple of months ago, a ride on the turntable seemed plausible. Now, it seems less likely although we probably won't know for sure until Saturday. As you're undoubtedly aware from our daily updates on this website, the Roundhouse area is still an active construction zone.
.
For those who've been on my Union Station tour and are wondering if this walk is different, indeed it is! We spend some time in Union Station, but most of the walk focuses on the Railway Lands, with an emphasis on the area surrounding the Roundhouse.
.
Heritage Toronto walks are free and no reservations are necessary.
.
Posting by Derek Boles, TRHA Historian