Painting and Lettering are the Tasks of the Day!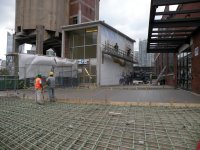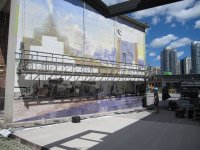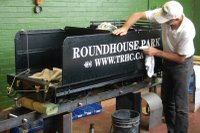 Click on each picture for a closer look!
.
As preparations continue for the opening of the new Leon's store in the Roundhouse, we see in the photo at the upper left that a new sidewalk area is being poured. Also of interest is the railway themed mural being painted on the side of the entrance ot the Convention Centre's underground parking garage as seen in the middle photo. Not to be outdone, we find Michael Guy working on finishing the lettering on the tender of our Sweet Creek locomotive in the right hand picture.
.
Posting by Russ Milland; Pictures by Lance Gleich, Michael Guy & James Rasor.