The TRHA Presents at Leon's Grand Opening!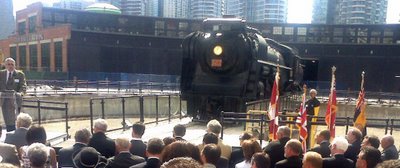 Click on the picture for a closer look!
.
The grand opening of Leon's new store in the Roundhouse happened on Tuesday, July 8th. In the picture above, Orin Krivel, our TRHA president, spoke to the audience at the opening along with other dignitaries. The event as well as the story of the Roundhouse development was well covered in the media. Here are a few links to these stories:
Andrew Jeanes, a member of the TRHA Board of Directors writes: "The CBC Metro Morning interview was ostensibly about the Toronto Railway Heritage Centre, but was pretty wide ranging and even included a plug for traveling on VIA between Toronto and Montreal as a more civilized alternative to flying!"
.
Posting by Russ Milland; Picture by Steve Munro