Weekend Work Report: More Progress on our Miniature Railway!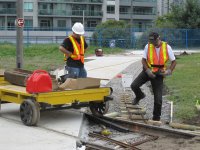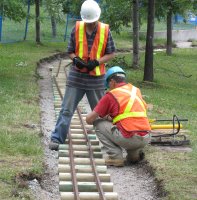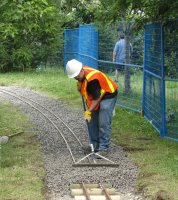 Click on each picture for a closer look!
.
Work continued on completing the miniature railway track system in Roundhouse Park last weekend. In the picture at left we find Dan and Michael working out a detail of the crossing for the minature railway and the standard gauge railway track. In the middle image, we find Wilson and Arno working on a fishplate connection. Finally in the right hand photo we find Dan carefully ballasting the track. Ballast is a crucial component of a trackage system as, in addition to providing a great support surface, it ensures that water drains away from the ties and keeps them dry, preventing them from rotting.
.
Posting by Russ Milland; Pictures by James Rasor